Petras Swissler
PhD Student, Mechanical Engineering
Adviser: Michael Rubenstein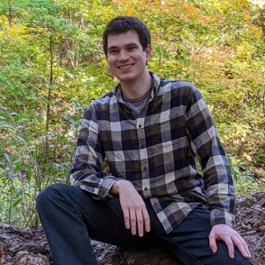 My research focuses on how to tackle the challenge of robotic self-assembly through the use of novel attachment mechanisms and robot design. It is my belief that successful robotic self-assembly requires a move away from the discretized structures which are near-universal in most self-assembling robotic systems. It is my hope that my research will enable self-assembling robots to form ad hoc complex and useful structures.
MS Mechanical Engineering, Northwestern University (2018)
BS Mechanical Engineering, Rose-Hulman Institute of Technology (2012); Minors in Electrical Engineering, Robotics, and Spanish
Professional Experience
Parametric Solutions Incorporated (2012 - 2016):
Worked as a mechanical engineer at a DoD-secure, ISO-compliant facility with other engineers. Major tasks included product development, design, and instrumentation of turbine engines. 
Managed team of 10+ engineers to develop instrumentation routing plans for developmental turbine engine.
Designed bracket for production flight engine, considering factors such as hardware interface, loading, manufacturability, and reliability.
Performed data analysis, including Weibull failure analysis, post-processing and analysis of test data, and Monte-Carlo tolerance stack analysis.
Interfaced daily with customer to determine requirements and ensure conformance to customer specifications and statement of work. Delivered project status reports and timelines to customer program managers.
Reverse-engineered turbine vane with interior cooling features.
Developed performance and design specifications for a hydro-turbine.
Served as an export focal to ensure compliance with export control regulations
Outreach Work
Northwestern Splash:
Splash puts on a once-a-year event in which Northwestern students can teach whatever classes they'd like for Chicagoland high-school students (In 2019, 300 students, 100 class sections).
Served on leadership board for three years: two years as group secretary, one year as teacher training focal.
Have taught a total of six sections of three classes: Introduction to Jet Engines, Introduction to Robotics and Control Theory, Board Game Ludology.
Science In Your Community Center:
SICC organizes once-a-month events for Evanston middle-school students.
Have participated as a mentor for three years.
Examples of challenges put on: programming an Arduino game, mixing the optimum bubble mix, dissecting owl pellets
Back to top